Hello all FSM members,
Introduction
It's a dark and rainy day and I'm sitting at home drinking a cup of my dark roast coffee trying to brighten up my day.  I now have a good 3 hours of time today that were previously booked for our kickoff meeting, so why not take advantage of that time and write his newsletter message to all my ski friends.  I know some of you like these short and sweet, but too bad, so sad, you may have 3 hours to spare too :). So I apologize for this longer winded communication, but as a FSM Trip Leader, it's my duty to share what's inside my tiny brain :).
As most of you know, I've been skiing a very long time, since I was 5, so this year marks my 60th year of skiing.  Wow, where did all that time go?  That makes me sound old but then there quite of few of you that are skiing into your 70's and 80's and you are the folks I look up to.  You are my mentors that provide the history, wisdom and guidance for the rest of us.  You give us great inspiration to get up and do the things we do, which during the cold months of the year is to ski or board.
To me skiing is so much more than the physical activity.  It is the freedom I seek by finding new places to visit and to enjoy the beauty, and glide down pristine trails and slopes with the wind in my face feeling the fresh air flowing through my lungs and body.  And then at the end of the day, as my father used to say back in the 60's/70's (when boots where downright uncomfortable), there is nothing like taking off he boots at the end of the day, putting your feet up in front of a hot, glowing fire and having a drink (of course mine was hot chocolate).
In recent years (about 11 to be exact) I joined the FSM club thanks to the FSM President at the time, Carrie Kimble, who subsequently cornered me on a chair lift to become a FSM VP and I've never looked back.  FSM has taught me many things as I was a die-hard skier who thought mostly about how many runs I could ski and how fast can I go. As many of you know, my favorite ski expression is, "To turn is to admit defeat".  Well thanks to many of you, I have changed, at least some LOL.  I have always stopped to enjoy the scenery, the wilderness, the beauty of being on ski mountain summits.  But FSM and YOU have taught me much more…to enjoy the more social aspects of skiing, the camaraderie, the social gatherings, meeting new ski buddies and making lifetime friends, and believe or not, to slow down. OK, maybe aging and hip replacements had something to do with that last thing. Thank YOU for your time, patience and the experience we all share.
Part I – Hudson Valley Invite
Ok, back to the point of this communication. The reason for this long introduction is that Holiday Mountain in Monticello, NY is one of those lost but rememberable ski areas of New York, in fact it was formed in 1957, the year I was born.  It's a 400 vertical foot mountain that is family-owned and recently bought by Mike Taylor and his family to rebuild it.  Anyone who has been skiing for 35-40+ years remembers these family-owned ski areas where we and our families learned how to ski and make long life friendships.  Our history of skiing sure makes it harder for us to fathom today's prices and not have some disdain for where the ski industry is headed, myself included…more on that later. But this rebuild is a great step to provide skiing to local families, so I think this is a great opportunity to hear about this rebuild. BTW, read this brief writeup about Holiday Mountain that was highlighted by The Storm Skiing Journal and Podcast, https://www.stormskiing.com/p/long-declining-holiday-mountain-ny
The Hudson Valley Ski Club has graciously invited our club to their October 4th meeting where the new owner, Mike Taylor, will make a presentation about his family's new venture.  It will take place at the American Legion (where our meetings are) starting at 7:30pm.  I plan to go, and I've created a FSM event for this where you can sign up to show your own intention of going.  Let's get as many Family Ski Meisters there as possible.  It'll be a great way to not only show Mike and his family support for bringing back an old ski area gem, but it will be a reminiscence of winters past.
A note of thanks to Ron Dombroski for being our FSM Club Liaison and for connecting with the Hudson Valley Ski Club which has led to this invite.
Click this link to sign up to this event.  Please remember, that we set up these event pages to help us manage the attendance of any of our events and to inform our attendees of any changes or cancellation of events.  If you don't sign up, you may not get notified of changes or cancellations.  It's also helpful to see who is going and you can organize carpooling :).
Part 2 – More on The Storm Skiing Journal and Stuart Winchester, interview on "RealSkiers" with Jackson Hogan
Remember I referenced my disdain for where the ski industry is going? Well this guy helps put perspective on this and helped me to understand the pros and cons of the ski industry's recent directions. Stuart Winchester hosts this journal/podcast and is the real deal and was interviewed by Jackson Hogan on RealSkiers.  Stuart has been a skier for decades and has great experience in writing about sports (NBA etc). He saw a major gap in ski journalism that has transitioned to the online age and has forgotten about the average skier and ski families. These are people/families that would love to enter the sport of skiing or learn more about where to ski and vacation, especially at the local and independent ski areas.  BTW, did you know New York has the most ski areas and most independent family-run ski areas?  Stuart has a great quote, "Everyone's searching for skiing's soul. I'm trying to find its brains." This basically sums up his philosophy and approach to his writings and podcasts.  He's a great read or something to listen to and I love his most recent podcast, "Stuart Winchester Joins "RealSkiers" Podcast with Jackson Hogan", give it a listen at the following link and you can subscribe if you enjoy it. https://www.stormskiing.com/p/stuart-winchester-joins-realskiers.  Also, the podcast  includes a review of IKON vs EPIC passes and ski industry directions that I've not thought about.
Check out Jackson Hogan on Realskiers.com for great info on the ski industry and equipment reviews.
BTW, our very own Ron Dombroski had the Indy pass last ski season and skied numerous northeast independent, family-owned ski areas and had a great time.  I am thinking of going that route in the near future so we can explore many of the northeast gems that Stuart Winchester refers to in this podcast.  I would love to hear back from you what you think of this idea.  Also, if you've never seen Ron ski, his is one of the most beautiful skiers I've skied with. He skies with such grace and beautiful flow, something to watch and all to aspire to.  Here is a short video I took of him at Banff while he, Dave Komoroske and I skied one of the most memorable powder days I had with these two at Mt. Norquay during our 2018 trip to Banff. http://www.familyskimeisters.com/wp-content/uploads/2022/06/Rons-beautiful-turns-at-Banff.m4v
Believe or not, you've come to the end of my newsletter.  Thank you for hanging in with me and I hope you enjoy this content.  Give me a shout out if you do and I'll try to do more of this.
Kurt Steubing
One of your FSM Ski Trip Leaders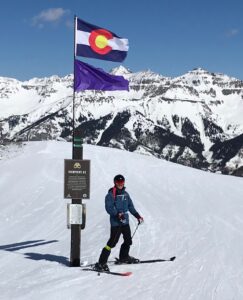 Picture by Dave Komoroske, an awesome photographer and fellow Family Ski Meister